Orange Is The New Black
I just watched the first four episodes of the new Netflix original, Orange Is The New Black, a comedy-drama series. I can't quite put my finger on the right word to describe this show.
The first episode was highly inappropriate, but like a horrible accident, I could not look away, and I could not turn it off. Turns out, if you can get past the inappropriate parts, the show is pretty good.
Piper Chapman, played by Taylor Schilling, does a great job keeping a straight face through some pretty funny stuff. I couldn't do it. I would bust out laughing at almost everything. In an earlier phase of her life, Piper made some bad choices, and ten years later she is found guilt of her crime, and finds herself serving time in prison.
The producers do a good job developing the characters, and their background stories, and balance each episode with just the right amount of prison time and flashbacks. I don't even have a favorite character because they are all interesting. Well, everyone except Alex, played by Laura Prepon. They haven't done much with her character yet, and what little they ave done is strange, superficial, and pretentious.
Give the show a try. You'll fall in love with most of the characters. Of course, you have to have
Netflix
to watch the show.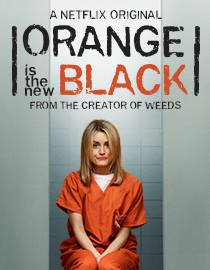 Orange Is The New Black